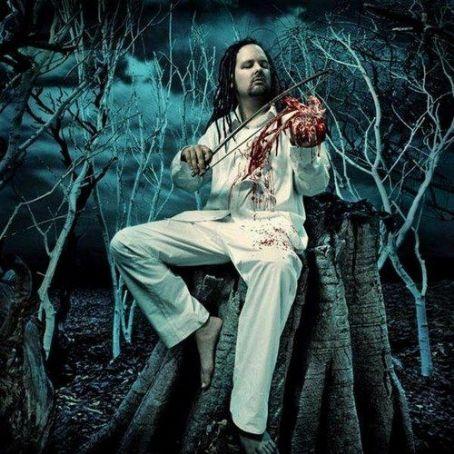 Jonathan Davis, lead singer for the Nu Metal band "KoЯn" is very creative. While in his youth, he had alot of problems with his parents, peers and teachers. These problems would later be the fuel for his creativeness.
Jonathan was born in Bakersfield, California on January 18th, 1971 to Rick Davis and Holly Chavez. When he was 3
years old, his mother left his father for an actor. Which Jonathan didn't like. As soon as the divorce was finalized,the two got married. Jonathan wrote about this on their recent album "See you on the other side"; the song "Love Song" is about how his mother left his father, and the impact
it had on him. The same year that his mother left, his Grandmother gave him his first drum set for Christmas. This was when Jonathan would start to have an interest in music.
Over the next few years, Jonathan would find a passion for singing. He found that by singing he could let out all the

depression he was suffering from. The song "Daddy" was said to be about his father raping him, but later it was found to be untrue. The real reason for the song, says Jonathan, is about a close female family friend that raped him and the fact that his family didn't believe him. About a year later, Jonathan's father remarried a woman named Lilly. Jonathan never did get along with his stepmother, and this caused alot of drama in their home. She use to give him salsa tabasco instead of tea when he was sick, and this was one of many reasons he hated her so much. He labeled her the 'step-mother from hell'. In Jonathan's own words: "I fucking hate that bitch. She's the most evil, fucked up person I've met in my whole life." Jonathan's father later divorced the 'step-mother from hell'.
At the age of five, Jonathan had a massive asthma attack that was nearly fatal. He was pronounced clinically dead for several minutes; fortunately, the doctors brought him back. After this episode, he was in and out of the hospital for most of his childhood. Surprisingly enough, Jonathan had no trouble singing his heart out. Most of the vocals would require him to scream in great length.
By the age of 12, Jonathan had already learned how to play the piano, violin, upright bass, and clarinet. As he

entered high school he would practice the bagpipes for 6 hours a day. During this time, he was physically, verbally, and emotionally abused by his peers. The jocks in school would throw him against lockers, and push his head under water while he was in the school's swimming pool, and the cheerleaders would ask him out as a joke. He was voted most likely to own his own mortuary. He was also sent to the counselor at school because he was wearing make-up; he would rush into the schools bathroom to apply his makeup after he got dropped off in the mornings. Because of this he was verbally abused by not only by his peers, but his teachers as well. They would call him names such as: "fagot," "pussy," "queer," and "HIV". The name "HIV" would later become one of his alias's. This abuse was the reason for the very emotional songs like "Faget," "Clown", and "Thoughtless". The lyrics of these songs tell the story through Jonathan's eyes, and the hurt he felt from the abuse. They also enlighten us to the fact that he is not gay, how he handles his emotions, and how he wants the people that have mistreated him to feel the same kind of pain that they have caused him to feel.

Jonathan graduated from Highland High School in 1989. He then attended the San Francisco School of Mortuary Science. After College he worked at the California Kern County Coroner's Office. His job was almost like a pathologist. After a short time he became a morticians assistant; his job then consisted of embalming the deceased. He later said "I could cut up flesh and not have to go to jail! I could do things serial killers did, and get paid for it. I could hack up bodies." This would be the reason for the morbid lyrics in the songs he wrote. The songs "Dead bodies everywhere,", "Dead," and "A.D.I.D.A.S." are three of the bands greatest hits. You can clearly see the dark morbid nature in the music video "A.D.I.D.A.S.". In this video the graphic images show the members of the band appearing to be dead in a car, then being zipped up in body bags on stretchers, and laid out on tables in a morgue.
In 1993, while working on a solo project known as "Buck Naked;" Jonathan met up with a few musicians that would go on to form a band called "Sex Art". They were only together for four months playing at local bars and night clubs. While performing at a night club one night , James 'Monky' Shaffer and Brian 'Head' Welch saw Jonathan singing; Jonathan had known Brian since Junior High. The day after the performance Jonathan got a call from the bands bassist Reginald 'Fieldy' Arvizu. Monky, and Head had told him what an amazing front man Jonathan was. Fieldy asked him if he would like join their band "Creep," and Jonathan excepted his offer.
After joining the band, they decided to change their name to KoЯn. This was due to an idea Jonathan had while

drawing with crayons. Notice how the "R" in their name is turned backwards; this symbolizes the childish nature that

has been created from Jonathan's past. This childish persona would lead to one of the bands top hits "Shoots and Ladders," or as some like to call it "Nursery Rhymes," which is on the album self-titled "KoЯn." This was their first album released in 1994. Since then they have made eight other albums in which all but two of them have gone platinum, The other two albums "Untitled" and "KoЯn III: Remember Who You Are" have gone gold.

Jonathan Davis has been through an immense amount of experiences. These experiences have led to his creativity, and major success of the band. Jonathan wrote the song "4 U" to sum up his feelings about the way he's been treated in his life. The song is a way of saying "thank you" to all of his fans. In his own words "All the kinda crazy shit I've done just to make the fans happy, & I don't mind doin' it, but I just wanted to show them that it kinda took alot out of me. I went through alot of shit to express my feelings and stuff to put into the music. So, I did a song especially for them. I just wanted to tell them how much I love them, because if it wasn't for them I wouldn't be alive I don't think."